Use Case:
An organization has two salesforce org ( Sales Org and R&D Org ). Sales Org user wants to create a support request in R&D org for a Sales Org opportunity. R&D org team has special skills to work on those Support Requests. Sales Org user is willing to share some of the opportunity field data and restrict sharing access to only for the opportunities that have Support Requests. Sales Org User is also interested to know the status and owner of the Support Request. R&D Org users should be able to run reports on Case/Support Request/Opportunity(Sales Org) data
Solution:
Providing a button on Opportunity UI to create a support request. Invoking a Visualforce page and using a controller class system can call Webservice on R&D Org to create a Case. Whenever a Support Request is created checkbox is updated in opportunity object, based on the checkbox opportunity information is shared with an integration user. Salesforce lightning connect is used to integrate Sales Org & R-&-D org. Check out my blog post on lightning connect. R&D Org can call webservice on Sales Org to update Support Request Owner and Status details in Sales Org system.
Implementation:
Below flow gives a top view of how the integration/data flow between the systems.

Step #1: Authentication
Sales Org calls Webservice on R&D Org
R&D Org authenticates Sales Org call
R&D lets Sales Org create Case after authentication
Salesforce configuration details:
Configure Connected App in R&D Org
Configure Authentical Provider in Sales Org
Configure Named Credentials in Sales Org
Use Named Credentials in Webservice Callout script
Follow blog post 'How to configure Named Credentials'
Step #2: Creating Webservice on R&D Org
1

2

3

4

5

6

7

8

9

10

11

12

13

14

15

16

17

18

19

20

21

22

23

24

25

26

27

28

29

30

31

32

33

34

35

36

37

38

39

40

41

42

43

44

45

46

47

48

49

50

51

52

53

54

55

56

57

58

59

60

61

@

RestResource

(

urlMapping

=

'/CaseSupportRequest/*'

)

global

with

sharing

class

CreateSalesSupportRequest

{

global

static

ID

createCase

(

)

{

String

Service_Request_Type

;

String

jsonString

=

RestContext

.

request

.

requestBody

.

toString

(

)

;

JSonParser

parser

=

JSON

.

createParser

(

jsonString

)

;

while

(

parser

.

nextToken

(

)

!=

null

)

{

if

(

parser

.

getCurrentToken

(

)

==

JSONToken

.

START_ARRAY

)

{

while

(

parser

.

nextToken

(

)

!=

null

)

{

if

(

parser

.

getCurrentToken

(

)

==

JSONToken

.

START_OBJECT

)

{

caseobj

co

=

(

caseobj

)

parser

.

readValueAs

(

caseobj

.

class

)

;

subject

=

co

.

Subject

;

Opportunity

=

co

.

Opportunity

;

Service_Request_Type

=

co

.

Service_Request_Type

;

CPU_Count

=

co

.

CPU_Count

;

Support_Request

=

co

.

Support_Request

;

System

.

debug

(

'subject '

+

subject

)

;

System

.

debug

(

'Status '

+

Status

)

;

Case

thisCase

=

new

Case

(

Subject

=

subject

,

Status

=

'New'

,

Origin

=

'Email'

,

Priority

=

'Important'

,

SMG_Opportunity__c

=

Opportunity

,

Service_Request_Type__c

=

Service_Request_Type

,

CPU_Count__C

=

CPU_Count

,

Support_Request__C

=

Support

_

Request

)

;

public

String

Opportunity

;

public

String

Service_Request_Type

;

public

Integer

CPU_Count

;

public

String

Support_Request

;

public

caseobj

(

String

subject

,

String

Opportunity

,

String

Service_Request_Type

,

Integer

CPU_Count

,

String

Support_Request

)

{

Opportunity

=

this

.

Opportunity

;

Service_Request_Type

=

this

.

Service_Request_Type

;

CPU_Count

=

this

.

CPU_Count

;

Support_Request

=

this

.

Support_Request

;
Step #3: Controller class to create call R&D Webservice from Sales Org
1

2

3

4

5

6

7

8

9

10

11

12

13

14

15

16

17

18

19

20

21

22

23

24

25

26

27

28

29

30

31

32

33

34

35

36

37

38

39

40

41

42

43

44

45

46

47

48

49

50

51

52

53

54

55

56

57

58

59

60

61

62

63

64

65

66

67

68

69

70

71

72

73

74

75

76

77

public

class

CreateSSRController

{

public

String

Subject

{

get

;

set

;

}

public

String

created_record_id

{

get

;

set

;

}

public

String

opportunity_id

{

get

;

set

;

}

public

String

opportunity_name

{

get

;

set

;

}

public

String

description

{

get

;

set

;

}

public

String

Service_Request_Type

{

get

;

set

;

}

public

Date

Deadline

{

get

;

set

;

}

public

Integer

CPU_Count

{

get

;

set

;

}

public

ID

support_request_id

{

get

;

set

;

}

public

void

create_SSR_in_DRD

(

)

{

// Id support_record_id = Insert_Support_Request_Record();

HttpRequest

request

=

new

HttpRequest

(

)

;

request

.

setEndpoint

(

'callout:DRDConnect/services/apexrest/CaseSupportRequest/'

)

;

request

.

setMethod

(

'POST'

)

;

request

.

setHeader

(

'Content-Type'

,

'application/json;charset=UTF-8'

)

;

String

json_string

=

'{"caseobj":[ {"Support_Request":"'

+

support_request_id

+

'" , "Subject": "'

+

description

+

'", "Service_Request_Type": "'

+

Service_Request_Type

+

'", "Opportunity": "'

+

opportunity_id

+

'", "CPU_Count": '

+

CPU_Count

+

'}]}'

;

request

.

setBody

(

json_string

)

;

HTTPResponse

response

=

http

.

send

(

request

)

;

System

.

debug

(

response

.

getBody

(

)

)

;

created_record_id

=

response

.

getBody

(

)

;

created_record_id

=

created_record_id

.

removeStart

(

'"'

)

;

created_record_id

=

created_record_id

.

removeEnd

(

'"'

)

;

System

.

debug

(

'Record ID '

+

created_record_id

+

' '

)

;

public

PageReference

Insert_Support_Request_Record

(

)

{

Support_Request__c

support_request_record

=

new

Support_Request__c

(

Description__C

=

description

,

Opportunity__c

=

opportunity_id

,

Service_Request_Type__C

=

Service_Request_Type

,

CPU_Count__C

=

CPU_Count

,

DRD_Case__c

=

created_record_id

)

;

insert

support_request_record

;

support_request_id

=

support_request_record

.

ID

;

public

CreateSSRController

(

)

{

opportunity_id

=

ApexPages

.

currentPage

(

)

.

getParameters

(

)

.

get

(

'id'

)

;

if

(

opportunity_id

==

null

)

{

opportunity_id

=

'0066A000002ZgZ2'

;

Opportunity

opty

=

[

select

Id

,

name

,

account

.

Name

from

Opportunity

where

Id

=

:

opportunity_id

]

;

opportunity_name

=

opty

.

Name

;

opportunity_id

=

opty

.

Id

;

// display picklist value in VF Page

public

List

<

SelectOption

>

getService_Request_Type_Picklist_Values

(

)

List

<

SelectOption

>

options

=

new

List

<

SelectOption

>

(

)

;

Schema

.

DescribeFieldResult

fieldResult

=

Support_Request__c

.

Service_Request_Type__c

.

getDescribe

(

)

;

List

<

Schema

.

PicklistEntry

>

ple

=

fieldResult

.

getPicklistValues

(

)

;

for

(

Schema

.

PicklistEntry

f

:

ple

)

options

.

add

(

new

SelectOption

(

f

.

getLabel

(

)

,

f

.

getValue

(

)

)

)

;
Step #4: VF Page to create Support Request
1

2

3

4

5

6

7

8

9

10

11

12

13

14

15

16

17

18

19

20

21

22

23

24

25

26

27

28

29

30

31

32

33

34

35

36

37

38

39

40

41

42

43

44

45

46

47

48

49

50

51

52

53

<

apex

:

page

controller

=

"CreateSSRController"

id

=

"createssrpage"

>

jQuery

(

"[id='{!$Component.datepicker}']"

)

.

datepicker

(

)

;

<

apex

:

form

id

=

"createssrform"

>

<

apex

:

pageBlock

title

=

"Create Sales Support Request"

>

<

apex

:

Messages

>

<

/

apex

:

Messages

>

<

apex

:

pageBlockSection

columns

=

"1"

>

<

apex

:

pageBlockSectionItem

>

<

apex

:

outputLabel

value

=

"Opportunity Name"

>

<

/

apex

:

outputLabel

>

<

apex

:

outputText

value

=

"{!opportunity_name}"

>

<

/

apex

:

outputText

>

<

/

apex

:

pageBlockSectionItem

>

<

apex

:

pageBlockSectionItem

>

<

apex

:

outputLabel

value

=

"Service Request Type"

>

<

/

apex

:

outputLabel

>

<

apex

:

selectList

id

=

"countries"

value

=

"{!Service_Request_Type}"

size

=

"1"

required

=

"true"

>

<

apex

:

selectOptions

value

=

"{!Service_Request_Type_Picklist_Values}"

/

>

<

/

apex

:

pageBlockSectionItem

>

<

apex

:

pageBlockSectionItem

>

<

apex

:

outputLabel

value

=

"CPU Count"

>

<

/

apex

:

outputLabel

>

<

apex

:

inputText

value

=

"{!CPU_Count}"

>

<

/

apex

:

inputText

>

<

/

apex

:

pageBlockSectionItem

>

<

apex

:

pageBlockSectionItem

>

<

apex

:

outputLabel

value

=

"Description"

>

<

/

apex

:

outputLabel

>

<

apex

:

inputTextarea

rows

=

"10"

cols

=

"100"

value

=

"{!description}"

id

=

"description"

label

=

"description"

/

>

<

/

apex

:

pageBlockSectionItem

>

<

apex

:

outputPanel

id

=

"msg"

>

<

apex

:

actionFunction

action

=

"{!Insert_Support_Request_Record}"

name

=

"InsertRecord_JS"

Rerender

=

"statuses"

status

=

"Status1"

oncomplete

=

"CallWebService_JS();"

/

>

<

apex

:

actionFunction

action

=

"{!create_SSR_in_DRD}"

name

=

"CallWebService_JS"

status

=

"Status2"

reRender

=

"statuses, msg"

/

>

<

apex

:

outputPanel

id

=

"statuses"

>

<

apex

:

actionStatus

id

=

"Status1"

startText

=

"...Inserting Record Into DB..."

/

>

<

apex

:

actionStatus

id

=

"Status2"

startText

=

"...Calling Web Service..."

/

>

<

div

>

<

input

name

=

"DoAction"

class

=

"btn"

type

=

"button"

value

=

"Create DRD Request"

onclick

=

"InsertRecord_JS();return false;"

/

>

<

/

div

>

<

apex

:

outputText

value

=

"{!created_record_id}"

>

<

/

apex

:

outputText

>
Step #5 : Create Support Request button configuration on Opportunity Page
go to Setup->Opportunity->Buttons to create Button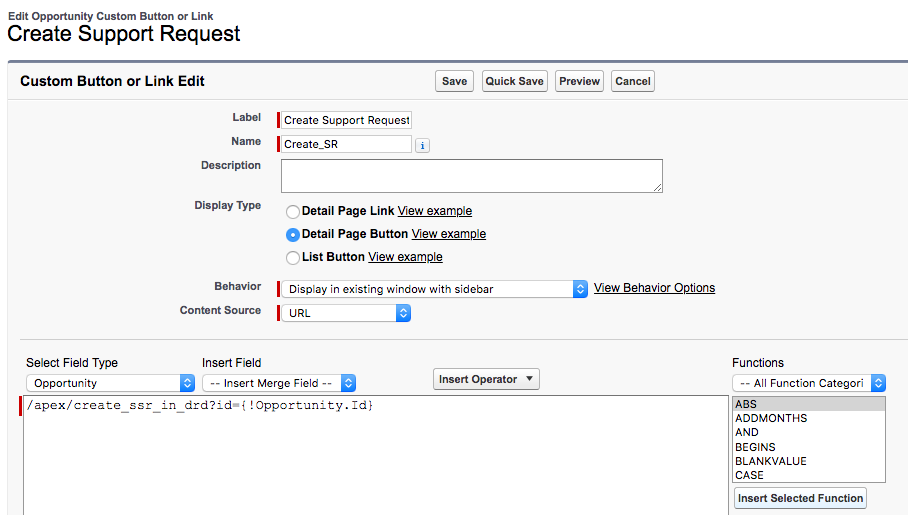 Step : #6: Add button to Layout