Use Case:
Company A stores credit card transaction data in Salesforce. Data is stored as Person Accounts all the transaction data is stored in the person account.  Number of transactions can grow to more than 10 million to 100 million depends upon the member base of the Company A
Solution:
Say for instance we are interested in
Capturing transaction data under person account
Processing transaction data for further processing ( like the redemption of the user acquired commissions )
Letting Customer support team filter the transaction data
Running reports on transaction data
Why can't we use Salesforce provided Big Objects to attain above functionality.  Wait.. before we design the solution let's understand the Big Object limitations
You can't create Big Objects using Salesforce Setup, instead use Salesforce Metadata API to create these objects
No triggers can be implemented on Big Objects
No Page Layouts
Querying data using SOQL is comes with limitation, you can query data on Index fields
You can't design Workflows, Process Builders etc
You can't run reports on the Transaction data
Instead of looking into the negativities of the Big Objects I looked into the beauty that can bring with these limitations. I trust Salesforce Architect team designed few of these limitations on purpose due to its multi-tenant architecture. Designing triggers, querying data on non-index fields, running reports , designing workflows, process builders all have a risk when not properly handled by an architect/developer when doing things.
Creating Big Object 
| Field Name | Type | Length | Index |
| --- | --- | --- | --- |
| Transaction Date | Date | | Index |
| Transaction Amount | Number | 5,2 | |
| Merchant Name | Text | 50 | Index |
| Transaction Location | Text | 25 | |
| CustomerId | Lookup(Account) | | |
Big Object can't be created from Salesforce setup. In order to create Big Object you have to use Salesforce Metadata API.  Let's create a package and deploy to Salesforce using workbench.
Create file : Customer_Transaction__B.object
1

2

3

4

5

6

7

8

9

10

11

12

13

14

15

16

17

18

19

20

21

22

23

24

25

26

27

28

29

30

31

32

33

34

35

36

37

38

39

40

41

42

43

44

45

<

CustomObject

xmlns

=

"http://soap.sforce.com/2006/04/metadata"

>

<

deploymentStatus

>

Deployed

<

/

deploymentStatus

>

<

fullName

>

Transaction_No__c

<

/

fullName

>

<

label

>

Transaction

No

<

/

label

>

<

required

>

true

<

/

required

>

<

fullName

>

Transaction_Date__c

<

/

fullName

>

<

label

>

Transaction

Date

<

/

label

>

<

required

>

true

<

/

required

>

<

fullName

>

Transaction_Amount__c

<

/

fullName

>

<

label

>

Transaction

Amount

<

/

label

>

<

precision

>

11

<

/

precision

>

<

required

>

false

<

/

required

>

<

fullName

>

Merchant_Name__c

<

/

fullName

>

<

label

>

Merchant

Name

<

/

label

>

<

required

>

false

<

/

required

>

<

fullName

>

Transaction_No_idx_c

<

/

fullName

>

<

name

>

Transaction_No__c

<

/

name

>

<

sortDirection

>

DESC

<

/

sortDirection

>

<

name

>

Transaction_Date__c

<

/

name

>

<

sortDirection

>

DESC

<

/

sortDirection

>

<

label

>

Transaction

<

/

label

>

<

pluralLabel

>

Transactions

<

/

pluralLabel

>
Step #2 : Create Permission set
Customer_Transaction.permissionset
<

PermissionSet

xmlns

=

"http://soap.sforce.com/2006/04/metadata"

>

<

description

>

Transaction

Big

Object

PermissionSet

<

/

description

>

<

hasActivationRequired

>

false

<

/

hasActivationRequired

>

<

label

>

Transaction

Big

Object

PermissionSet

<

/

label

>

<

editable

>

true

<

/

editable

>

<

field

>

Customer_Transaction__b

.

Transaction_Amount__c

<

/

field

>

<

readable

>

true

<

/

readable

>

<

editable

>

true

<

/

editable

>

<

field

>

Customer_Transaction__b

.

Merchant_Name__c

<

/

field

>

<

readable

>

true

<

/

readable

>
Step #3 : Create Package.xml file
<

Package

xmlns

=

"http://soap.sforce.com/2006/04/metadata"

>

<

name

>

CustomObject

<

/

name

>

<

name

>

PermissionSet

<

/

name

>
Step #4 : Create zip file for deployment
Customer_Transaction__B.object,  package.xml, Customer_Transaction.permissionset
Download zip file customer_transaction
Step #5: use workbench to deploy the code
Upload zip file and click Next , follow the instruction to deploy the code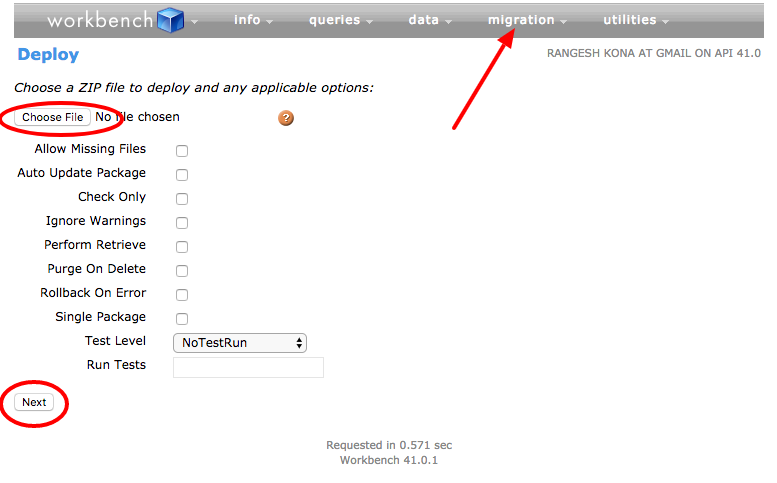 Step #6 : Use Bulk Api Java Code for data Migration into Big Object
1

2

3

4

5

6

7

8

9

10

11

12

13

14

15

16

17

18

19

20

21

22

23

24

25

26

27

28

29

30

31

32

33

34

35

36

37

38

39

40

41

42

43

44

45

46

47

48

49

50

51

52

53

54

55

56

57

58

59

60

61

62

63

64

65

66

67

68

69

70

71

72

73

74

75

76

77

78

79

80

81

82

83

84

85

86

87

88

89

90

91

92

93

94

95

96

97

98

99

100

101

102

103

104

105

106

107

108

109

110

111

112

113

114

115

116

117

118

119

120

121

122

123

124

125

126

127

128

129

130

131

132

133

134

135

136

137

138

139

140

141

142

143

144

145

146

147

148

149

150

151

152

153

154

import

com

.

sforce

.

async

.

*

;

import

com

.

sforce

.

soap

.

partner

.

PartnerConnection

;

import

com

.

sforce

.

ws

.

ConnectionException

;

import

com

.

sforce

.

ws

.

ConnectorConfig

;

public

class

BulkLoadBigObject

{

public

static

void

main

(

String

[

]

args

)

throws

AsyncApiException

,

ConnectionException

,

IOException

{

BulkLoadBigObject

bo

=

new

BulkLoadBigObject

(

)

;

bo

.

createRecords

(

"RK_CLOUD__Customer_Interaction__b"

,

"rangeshsecure@gmail.com"

,

"Ritman$1234"

,

"customerInteraction.csv"

)

;

public

void

createRecords

(

String

sobjectType

,

String

userName

,

String

password

,

String

sampleFileName

)

throws

ConnectionException

,

IOException

,

AsyncApiException

{

// get SFDC connection using partner WSDL

BulkConnection

connection

=

getBulkConnection

(

userName

,

password

)

;

JobInfo

job

=

createJob

(

sobjectType

,

connection

)

;

BatchInfo

batchInfo

=

createBatchFromCSVFile

(

connection

,

job

,

sampleFileName

)

;

closeJob

(

connection

,

job

.

getId

(

)

)

;

awaitCompletion

(

connection

,

job

,

batchInfo

)

;

checkResults

(

connection

,

job

,

batchInfo

)

;

private

void

checkResults

(

BulkConnection

connection

,

JobInfo

job

,

throws

AsyncApiException

,

IOException

{

CSVReader

rdr

=

new

CSVReader

(

connection

.

getBatchResultStream

(

job

.

getId

(

)

,

batchInfo

.

getId

(

)

)

)

;

List

<

String

>

resultHeader

=

rdr

.

nextRecord

(

)

;

int

resultCols

=

resultHeader

.

size

(

)

;

while

(

(

row

=

rdr

.

nextRecord

(

)

)

!=

null

)

{

Map

<

String

,

String

>

resultInfo

=

new

HashMap

<

String

,

String

>

(

)

;

for

(

int

i

=

0

;

i

<

resultCols

;

i

++

)

{

resultInfo

.

put

(

resultHeader

.

get

(

i

)

,

row

.

get

(

i

)

)

;

boolean

success

=

Boolean

.

valueOf

(

resultInfo

.

get

(

"Success"

)

)

;

boolean

created

=

Boolean

.

valueOf

(

resultInfo

.

get

(

"Created"

)

)

;

String

id

=

resultInfo

.

get

(

"Id"

)

;

String

error

=

resultInfo

.

get

(

"Error"

)

;

if

(

success

&&

created

)

{

System

.

out

.

println

(

"Created row with id "

+

id

)

;

System

.

out

.

println

(

"Failed with error: "

+

error

)

;

private

void

awaitCompletion

(

BulkConnection

connection

,

JobInfo

job

,

BatchInfo

batchInfo

)

throws

AsyncApiException

{

Set

<

String

>

incomplete

=

new

HashSet

<

String

>

(

)

;

incomplete

.

add

(

batchInfo

.

getId

(

)

)

;

while

(

!

incomplete

.

isEmpty

(

)

)

{

catch

(

InterruptedException

e

)

{

}

System

.

out

.

println

(

"Awaiting results...."

+

incomplete

.

size

(

)

)

;

BatchInfo

[

]

statusList

=

connection

.

getBatchInfoList

(

job

.

getId

(

)

)

.

getBatchInfo

(

)

;

for

(

BatchInfo

b

:

statusList

)

{

if

(

b

.

getState

(

)

==

BatchStateEnum

.

Completed

||

b

.

getState

(

)

==

BatchStateEnum

.

Failed

)

{

if

(

incomplete

.

remove

(

b

.

getId

(

)

)

)

{

System

.

out

.

println

(

"Batch Status : \n"

+

b

)

;

private

void

closeJob

(

BulkConnection

connection

,

String

jobId

)

throws

AsyncApiException

{

JobInfo

job

=

new

JobInfo

(

)

;

job

.

setState

(

JobStateEnum

.

Closed

)

;

connection

.

updateJob

(

job

)

;

private

BatchInfo

createBatchFromCSVFile

(

BulkConnection

connection

,

JobInfo

jobInfo

,

String

sampleFileName

)

throws

IOException

,

AsyncApiException

{

FileInputStream

tmpInputStream

=

new

FileInputStream

(

sampleFileName

)

;

batchInfo

=

connection

.

createBatchFromStream

(

jobInfo

,

tmpInputStream

)

;

System

.

out

.

println

(

"Batch Info "

+

batchInfo

)

;

private

JobInfo

createJob

(

String

sobjectType

,

BulkConnection

connection

)

throws

AsyncApiException

{

JobInfo

job

=

new

JobInfo

(

)

;

job

.

setObject

(

sobjectType

)

;

job

.

setOperation

(

OperationEnum

.

insert

)

;

job

.

setContentType

(

ContentType

.

CSV

)

;

job

=

connection

.

createJob

(

job

)

;

System

.

out

.

println

(

"Created Job "

+

job

)

;

private

BulkConnection

getBulkConnection

(

String

userName

,

String

password

)

throws

ConnectionException

,

AsyncApiException

{

ConnectorConfig

partnerConfig

=

new

ConnectorConfig

(

)

;

partnerConfig

.

setUsername

(

userName

)

;

partnerConfig

.

setPassword

(

password

)

;

partnerConfig

.

setAuthEndpoint

(

"https://rangesh-dev-ed.my.salesforce.com/services/Soap/u/41.0"

)

;

new

PartnerConnection

(

partnerConfig

)

;

ConnectorConfig

config

=

new

ConnectorConfig

(

)

;

config

.

setSessionId

(

partnerConfig

.

getSessionId

(

)

)

;

String

soapEndpoint

=

partnerConfig

.

getServiceEndpoint

(

)

;

String

apiVersion

=

"41.0"

;

String

restEndpoint

=

soapEndpoint

.

substring

(

0

,

soapEndpoint

.

indexOf

(

"Soap/"

)

)

+

"async/"

+

apiVersion

;

config

.

setRestEndpoint

(

restEndpoint

)

;

config

.

setCompression

(

true

)

;

config

.

setTraceMessage

(

false

)

;

BulkConnection

connection

=

new

BulkConnection

(

config

)

;